About the food
We have used our environment to our advantage, and worked to provide fresh seafood from
Enjoy the rich seafood and mountain ingredients of the north.
the Ataka Fishing Port and improve our flavor since our establishment. The seafood from the Sea of Japan changes with the season, and we hand pick our ingredients to match the season, and avoid providing those that are out of season.
Traditional
Daytime Kaiseki Meal

8,000yen〜
(Taxes not included)
Daytime Small Kaiseki Meal

6,000yen
(Taxes not included)
Evening Kaiseki Meal

10,000yen〜20,000yen
(Taxes not included)
The above prices do not include seat and service fees.
<Regarding Banquets>
We at Matsuya offer menus for auspicious occasions and Buddhist events.
Select one that you find suitable for your special day, be it a betrothal gift exchange, a wedding dinner, or your newborn's first visit to a shrine.
We also offer a heartfelt menu for those looking to quietly mourn the loss of a loved one.
We will assist you in making your day the best one possible with our hospitality.
Shokado Bento lunch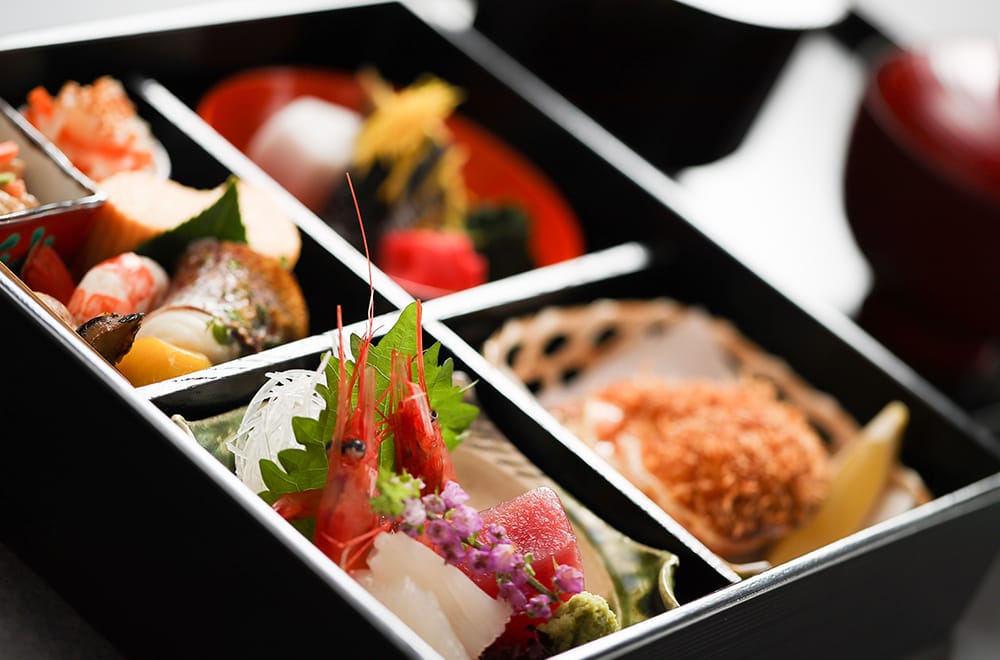 Shokado Lunch Box – Flavor of Choice
・4,500 yen (Taxes not included)
・5,500 yen (Taxes not included)
The above prices do not include seat and service fees.
Tea ceremony lunch, tea snack lunches also available.
<About the contents of the dishes>
If you have any allergies, please inform us when you make your reservation.
We cook using the same equipment as the other foods, so there may be small quantities of allergenic substances on the cooking equipment, dish washer, or utensils.
Due to this, our dishes are not completed allergen-free. Please take this into consideration.
<About Prices>
Please inform staff beforehand is you would like to select your final price.
If you are hosting a large banquet, we can adjust final cost if necessary, so please feel free to consult us.
<About Our Cancellation Policy>
If you would like the make alterations or cancel after you have already made your reservation, please call us by phone. The following fees apply for cancellations made within three days of the reserved date.
| | |
| --- | --- |
| Three days | 30% of the final price |
| Day before | 50% of the final price |
| Day of | 100% of the final price |